Chiang Rai
Chiang Rai is the northernmost province of Thailand and was the home of the founder of the kingdom of Lan Na, Chao (King) Mangrai. Mangrai was a scion of the rulers of the ancient kingdom of Yonok, which was based at a capital on the River Mekong in the vicinity of Chiang Saen in the 13th century.
Chiang Saen played a leading role in the area throughout the Lanna and Burmese periods, both as a second capital of Lan Na and the last bastion of the Burmese before it fell to Chao Kavila around 1804 and became a part of the vassal Lanna state and then Thailand.
The main centers of population in the province are located in fertile agricultural lands to the north and northeast of the provincial capital, along the floodplains of the Rivers Kok and Ing, which flow into the Mekong. Much of the western part of the province is the mountainous home of hill-tribes who grew opium.
Along with Kuomintang Chinese, who helped secure Thailand borders against communist threats by selling opium and buying guns, they made the area famous as the Golden Triangle.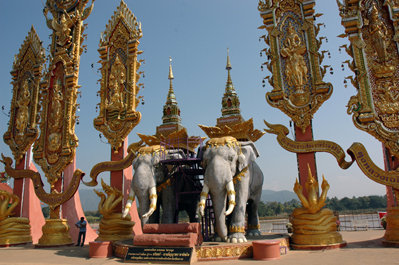 Hotline +66 (0)81 531 9400