Mae Hong Son
Mae Hong Son began to be incorporated into the vassal Lanna state in the 19th century. Hitherto it had been a remote, sparsely populated mountainous territory between lowland Burma and Lan Na. Originating as a training camp and source for elephants used in the logging industry in the 19th century, the settlement that was to become the provincial capital grew, becoming a part of the Lanna state and then the Thai state under Bangkok.
Known as the City of Three Mists for the mists that pervade the city during the different seasons, the provincial capital and its distinctive Shan Burmese temples are sandwiched between the River Pai and high mountains to the east. The highest areas of the province's mountainous 13, 814 square kilometers, most of which lies in the
Salween watershed, are inhabited by the Hmong and Lawa, who practice upland agriculture. The Northern Thai,
Shan and the Karen—the latter the most populous hill-tribe in the province—mainly (not exclusively) live in lower areas. The Karen people are skilled at building terraces for wet-rice paddy farming, and their villages give the valleys a distinctive character.
Padaung or long neck Karen
The "Long neck" Karen, or Padaung (sounds like "Padong") as they are properly called, are a subgroup of the Karen, a large ethnic group of obscure origin that occupies the hilly terrain on the border of Thailand and Burma. Originating from their homeland in Kayah State in eastern Burma, the Padaung are famous for the distinctive custom of placing coils on the necks of their women, giving them an appearance of having long necks. Though various reasons are given for the custom, such as protecting the females from being kidnapped by other tribes, the Padaung themselves are only able to confirm that it has been their tradition for a long time.
Fleeing hardship in their Burmese homeland, the Padaung first settled in camps in Mae Hong Son Province around 1990 and soon found they were becoming a tourist attraction. Their brass coils, which are worn on the legs as well as the neck, their white blouses and striped, naturally dyed tube skirts have made Padaung women amongst the most photographed peoples in Thailand.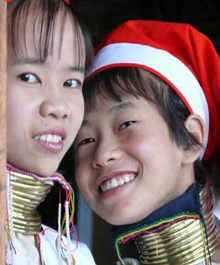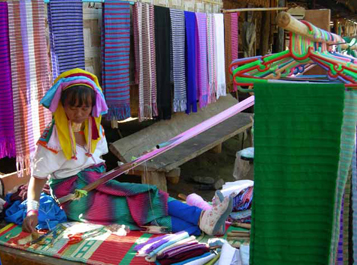 Hotline +66 (0)81 531 9400